Sharon Weidman is a liberal television presenter. She appears alongside news anchor Will McAvoy and conservative politician Lewis at a college question and answer session.
Biography
Edit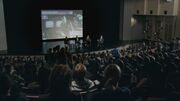 At a college panel discussion, Will McAvoy delivered a tirade at a student when asked what makes America the greatest country in the world, believing it no longer holds that status. She objected to his behavior fterwards. ("We Just Decided To")
Behind the scenes
Edit
Sharon is a minor character in the first season. She is played by guest star Elizabeth Marvel and only appears in "We Just Decided To". Her last name is not revealed until "What Kind of Day Has It Been," where it appears on a poster in MacKenzie McHale's flashback.
Appearances
Edit
Season 1
"We Just Decided To"
"News Night 2.0"
"The 112th Congress"
"I'll Try to Fix You"
"Amen"
"Bullies"
"5/1"
"The Blackout Part I: Tragedy Porn"
"The Blackout Part II: Mock Debate"
"The Greater Fool"